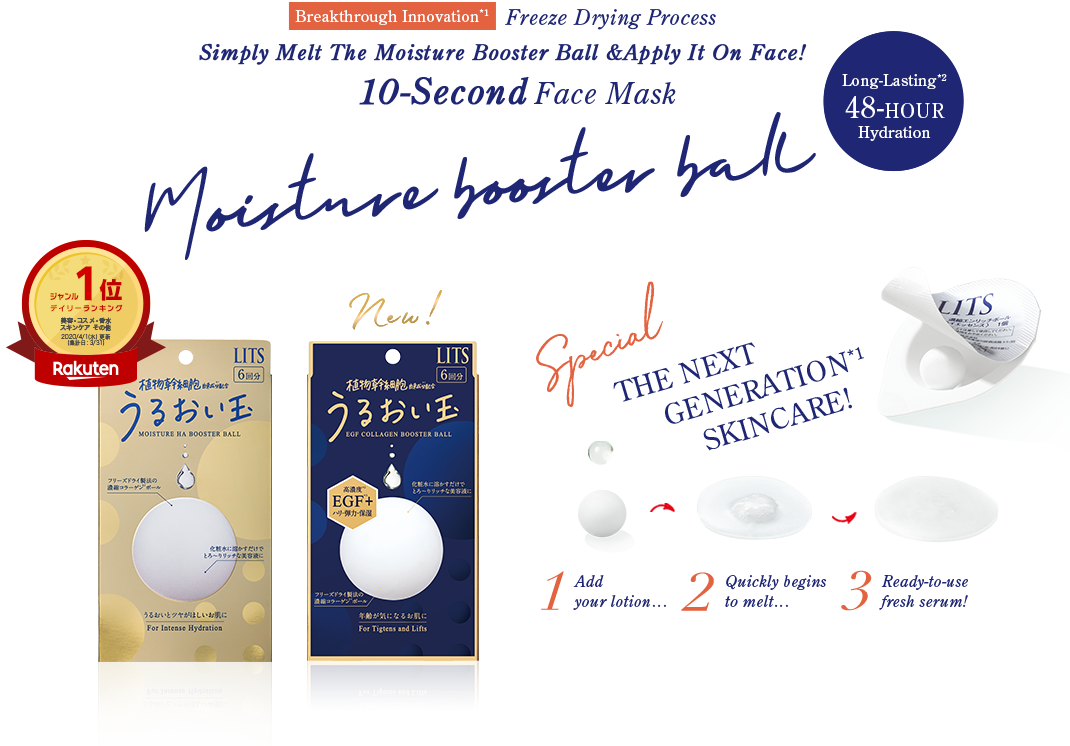 *1 for LITS series *2 internal research: effectiveness of Moisture Booster Ball and Moist Lotion

*1 for LITS series
*2 amount of collagen-derived components (moisturizing ingredients) compared to Moist Essence


*1 Hydrolyzed Collagen (moisturizing ingredient) *2 Malus Domestica Fruit Cell Culture Extract (moisturizing ingredient) *3 amount of collagen-derived components (moisturizing ingredients) compared to Moist Essence *4 Sodium Hyaluronate (moisturizing ingredient) *5 amount of hyaluronic acid-derived components (moisturizing ingredients) compared to Moist Rich Lotion
A well-balanced blend of serum ingredients*2 ensures to provide the purest and freshest extracts to your skin.

*1 internal research: effectiveness of Moisture Booster Ball and Moist Lotion *2 Hydrolyzed Collagen (moisturizing ingredient), Sodium Hyaluronate (moisturizing ingredient), Malus Domestica Fruit Cell Culture Extract (moisturizing ingredient)

Add a 500yen coin-sized amount of lotion to your hand. Melt using your fingers.

Gently blend until the formula is ready to use.

Spread the lotion with your hands across your face, working from the center of the face towards the outside. Use long gliding strokes around your cheeks and stroking upward on the forehead.

Finish by covering the face with your palms, allowing your skin to absorb each blend with the warmth from your hands.

"All I have to use is the Moisture Booster Ball and my lotion! How convenient and easy it is without using serums and skin creams♪"

"Simply blend it with your lotion! It's a super-easy, reliable skincare even when I'm busy!"

"It gave me such an luxurious, irresistible feel after using it for 6 days in a row! It's my way of rewarding myself!"

How much lotion should I use?

Use approximate amount according to your choice of lotion. Adjust your lotion to achieve your ideal texture. Layer lotion to target areas of concern (eyes, mouth and other).
How often should I use the product?

Use when you are experiencing common skin concerns and conditions. Apply product for six days in a row to fortify your skin effectively. Add to your skincare routine to prepare your skin before a party or event.
How is concentrated collagen infused in a single booster ball?

Freeze drying is an ideal way to safely formulate highly concentrated ingredients that are unstable in solution. When prepared with a vacuum freeze-dried technique, the ingredients maintain their size and shape, while having excellent potency and stability. Moisture Booster Ball is also unique since it is packed with multiple raw ingredients. In addition to collagen*1, it is formulated with high concentrations of hyaluronic acid*2 and plant-derived stem cells*3 retaining most of its fresh, original state.

*1 Hydrolyzed Collagen (moisturizing ingredient) *2 Sodium Hyaluronate (moisturizing ingredient) *3 Malus Domestica Fruit Cell Culture Extract (moisturizing ingredient)